It's a First Feature Double Header on the Next Double Down Film Show
The next Double Down Film Show will be a special double-header with not one, but two hot up-and-coming directors discussing their first feature films out this year.
First up i
s NYU film grad, Hue Rhodes, who wrote and directed, St John of Las Vegas which came out earlier this year. Hue changed careers from software programming to filmmaking at the age of 30 and was one of the oldest students in his graduate film program. His first feature, St John of Las Vegas is a quirky comedy road movie starring, Steve Buscemi and Sarah Silverman.
Next on deck, is our good friend and fellow NYU grad, writer/director Alrick Brown, which many of you may recognize from the IFC reality series Film School which profiled several NYU grad students in their first year of film school.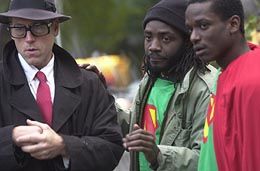 Well since that time, Alrick has graduated from the program and gone on to establish a reputation as a skilled and provocative director that sometimes leaves his audiences in stunned silence. His first feature entitled Kinyarwanda was shot over several weeks in Rwanda on the Red camera and co-directed by Ishmael Ntihabose. (read Variety article)
How did Hue land not one, but

two major stars

in his first feature?
What are the

perils (and rewards)

of shooting in the Third World?
What

really

happens after (and during) grad film school?
How is shooting on the

Red camera

different than shooting 35mm?
What does Alrick do that leaves his audiences

speechless

?
All will be revealed in tonight's special first feature double-header. Filmmakers, you are not alone. Listen and learn from the mistakes, successes and hard-won wisdom of your indie film colleagues every Wednesday night.
***PS – If you can't tune in live, you can always stream the show or download the .mp3 file later at the site above.