Ant's Consumer Camcorder Guide
I recently gave a quick crash course in choosing a consumer camera for the Fox Business News Channel at the B&H Photo Video Superstore in Midtown Manhattan. I also gave a quick overview of some of my personal picks for the best consumer-level camcorder bargains out there.


These cameras are primariliy for non-professional filmmakers- regular ol' people – who want to shoot personal home movies, vacation videos, or who may have some very simple business video needs.
If you are an aspiring filmmaker on a really tight budget, the models below with mic and headphone connectors will get you rolling until you can upgrade to something a little more professional in the $2500+ price range. (If you are a filmmaker in the market for a more advanced prosumer camera, make sure you sign up to our mailing list at the top right of our blog and check out my 2 part podcast on How to Choose a Camera – part 1 & part 2.)
The first thing you want to consider in a consumer camcorder is image-quality. How good will the picture look?



HD vs. SD

HD video cameras will give you a much clearer, sharper picture and a more cinematic widescreen format. However, if you don't own an HDTV or if you want to get more professional camera features at a bargain, you may want to go with a standard def camera, which costs less and will look just like the images you are already used to on any non-HD television.




IMAGE SENSORS

The other image-quality factor to look for is the size of the camera's image sensor. Now image sensors, or image chips, are essentially the video equivalent of a photo negative- the bigger the sensor – the better the image quality. So a 1/3" sensor would give you a better image than a 1/4" sensor chip, and so on.



CCD vs CMOS

There are two different kinds of image sensor technologies out there – CCD chips and the newer and cheaper CMOS chips. When it comes to CCD chips, 3 chips is better than one. However, most cameras at the consumer price point are gonna be single chip cameras- and that's perfectly fine for the home moviemaker.
ABILITY TO SHOOT IN LOW LIGHT

Another factor to consider is the camera's ability to shoot in low light. Look at the specs for something called the lux rating of the camera. The lower the lux rating the better the camera will perform in low lighting conditions. (7 lux or lower is fine, but a camera rated at 3 lux or lower will perform great in low light.)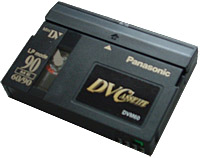 RECORDING FORMAT

Mini-DV tape is still the most established consumer format, but there are now many choices of recording media out there including hard-drive, DVD, and flash memory-card based cameras.




Some of these newer formats you will find still have a few quirky performance and compatibility issues when it comes to reliability and editing, but they generally offer greater convenience, flexibility and savings in tape costs over mini-DV tape. My advice to you would be to spend a little extra time researching possible issues when purchasing any non-tape based camera.
CONNECTIONS

Also check the specs for the type of connections or ports the camera has to hook it up to other devices such as your computer or tv. A Firewire and an A/V connection – which goes into the little yellow, red and white plugs on your tv – should be standard for any model.
For the best quality playback, also look for S-Video connectors or HDMI or Component connectors on HD model cameras. In addition to getting a picture out of the camera, a few consumer models may offer audio connections to plug in a pair of headphones or a microphone, both of which you'll need if your filmmaking ever becomes more serious.
ADVANCED FEATURES

As home filmmaking becomes more accessible, more and more pro features have been creeping into consumer cameras in the last few years. Now almost anyone can get more professional results using the same tricks as the pros.
The most valuable advanced feature is manual controls- specifically manual focus, exposure, shutter speed and white balance will all give you much greater control over image quality when you are ready to switch out of full-auto mode.
An optical image stabilizer to help improve shaky camerawork is always a great feature to have. And if buying HD, look for a focus-assist function to help you focus those ultra-sharp HD images on that tiny LCD screen. A touch screen LCD, photo-capture, time-lapse recording, and 16:9 wide screen mode are also great advanced features to find in a consumer-level camcorder.



So now that we talked about the basic things to look out for, I wanna point out 3 different consumer models that pack in some great features at recession-friendly prices. So check out the all-new first time ever…
Price-Buster Consumer Camcorder Picks!!!!!

Ant's personal camcorder picks for the home movie crowd – all under $1000. Help out the economy by spending your recession tax relief check on one of these video camcorder bargains…


Panasonic – PV-GS320 – $320.00


Standard Def mini-DV camcorder

3x 1/6" CCD sensors

1 lux min. light

manual focus

S-Video Out (w/ special cable)
Canon Vixia HV-30 – $750.00

HD mini-DV camcorder

2.7" CMOS sensor

.2 lux min.light

manual focus and exposure

optical image stabilizer

mic/headphone/HDMI connectors

very simple controls

HV-20 is a great substitute model
Sony – HDR-HC9 – $900.00
HD mini-DV camcorder

2 lux min. light

2.9" CMOS sensor

touch-screen interface

exposure histogram
(*All prices are as found at B&H Photo Video Superstore in Manhattan, NY at the time of posting. Prices vary from market to market.)